This article is a step-by-step guide to installing ESP-IDF on a Raspberry Pi 3 or 4 board with the Raspbian operating system (Or can be applied to other operating systems with AMD/Intel processors) to be used as a C++ interpreter for developing programs for the ESP32 board, which is called bare metal or used to compile MicroPython, in particular mpy-cross, a translator from Python (.py) to bytecode (.mpy), which protects source code, allowing faster execution of instructions. (because it has been translated before) and the file size is smaller.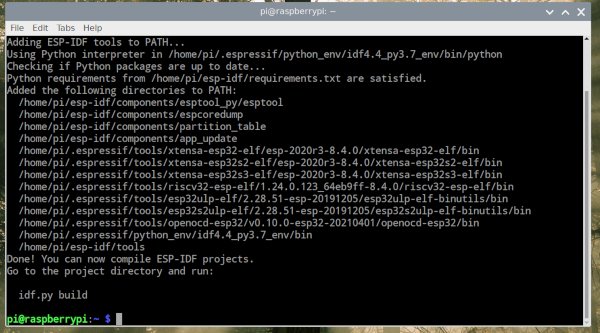 Equipment
Steps
Update the system with the command
sudo apt update
If there is an upgrade, upgrade with the following command.
sudo apt full-upgrade -y
Install python3 and pip3
sudo apt install python3 python3-pip -y
Change the Python interpreter to Python3.
sudo update-alternatives –install /usr/bin/python python /usr/bin/python3 1
Change package manager from pip to pip3
sudo update-alternatives –install /usr/bin/pip pip /usr/bin/pip3 1
Install the required packages.
sudo apt install -y \
git wget flex bison \
gperf python-setuptools \
cmake ninja-build ccache \
libffi-dev libssl-dev dfu-util
Clone the code from github.
cd ~
git clone https://github.com/espressif/esp-idf.git esp-idf
cd esp-idf
git submodule update –init –recursive
Proceed with the installation.
cd esp-idf
. ./install.sh
Install environment
. ./export.sh
Configure the environment for ESP-IDF every time you enter the terminal by adding the following line in .bashrc so that every time you enter the terminal, the system will recognize the ESP-IDf as shown in Figure 1.
. "$HOME/esp-idf/export.sh"
Assign our account to access the communication port used to connect to the ESP32/ESP32-S2. After completing the task reboot the Raspberry Pi.
sudo usermod -a -G dialout,tty $USER
Conclusion
From this article, you can install the C++ Development Tool for ESP32 on the Raspbian operating system of the Raspberry Pi board. MicroPython can be installed and interpreted by following this article. In addition, you can read C++ basics on data types, Operators, Expressions, Conditions and Repetitions, which are basic programming styles from the previous article.
Feel free to leave comments below !
Finally, have fun with programming.
References
(C) 2021, By Jarut Busarathid and Danai Jedsadathitikul
Updated 2021-10-04